Reefer Trucks For Rent In UAE
Al Fitrah Transport company is the perfect solution for transporting goods that need to be kept at a specific temperature throughout the journey. They are commonly used for transporting food products, but can also be used for transporting hazardous, or other, goods that require a specific temperature range during transport. Although they are relatively specialized vehicles most major commercial vehicle rental depots have at least one refrigerated truck for rent in their fleet of vehicles. Let's discuss in detail the reefer trucks for rent in Dubai.
Reasons reefer truck for rent:
As previously mentioned a refrigerated truck is most commonly used for food items that will spoil if not kept within a certain temperature range. This may include; meat and dairy products, seafood, fruits and vegetables, frozen products, and any other product that may spoil. They are also required, on occasion, for medical supplies and hazardous goods that need to be kept at a low temperature for safety reasons. Most refrigeration units can cater to a wide variety of temperature ranges, but a quality unit will be required if freezing is required.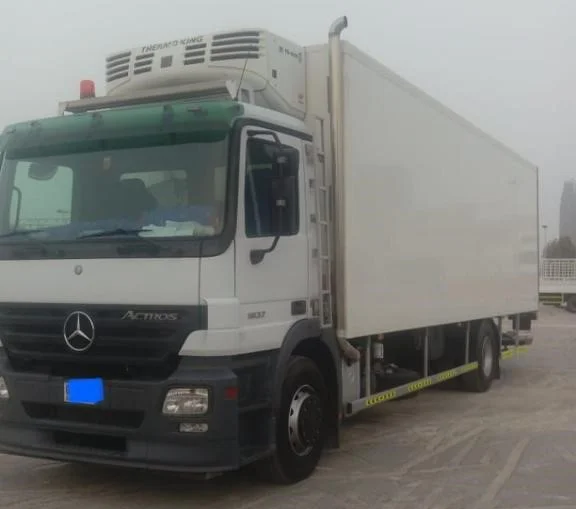 Temperature Control:
The quality of the temperature control unit that you will require will depend entirely on the cargo that you are hauling. The most basic system relies on an ice cooling model, but dry ice (carbon dioxide) can also be used as a cooling agent for better cooling. The most advanced systems utilize full refrigeration units, often powered by a small diesel generator, and offer proper temperature control.
Size:
There are a variety of sizes when it comes to this type of truck. The smallest of these are refrigeration vans that cater to a small amount of cargo. The largest refrigerated trailers are semi-trailer models that require a tractor to tow them. These can haul a surprisingly large amount of refrigerated goods and are, generally, only required in special circumstances.
Cost Of  Reefer Trucks For Rent:
The actual cost of this type of truck depends on two separate factors. Firstly, the type of cooling system that the truck uses and, secondly, the size of the truck or trailer. The daily rental rate can also differ depending on the length of time you require the truck and the amount of mileage you require. Rental companies are usually open to negotiation, especially if you require the truck for an extended period of time. In most cases, the cost will be slightly more than a standard truck rental fee.
Availability Reefer Trucks For Rent:
Freezer and Reefer trucks are available from most commercial vehicle rental companies as well as transport companies that specialize in cold storage and hauling. They are generally available for most business use and it is not common to find them for personal use. It is important to make your booking as soon as possible because these  vehicles are in high demand.
We are providing services in all states of UAE like Dubai, Abu Dhabi, Sharjah, Al Ain, Ajman, Umm Al Quwain, Fujairah, Ras Al Khaimah, etc.
WhatsApp/Call: +971 50 5710127
About Us
AL FITRAH GENERAL TRANSPORT is a trading name of AL FItrah General Transport which boasts many years of experience in refrigerated trucks & transport services in Dubai, Abu Dhabi, Sharjah, Ajman, Ras Al Khaimah, Fujairah, and Al Ain.
Office # 09, M17 MUSSAFAH industrial area, Abu Dhabi
info@alfitrahtransport.com